June 24, 2021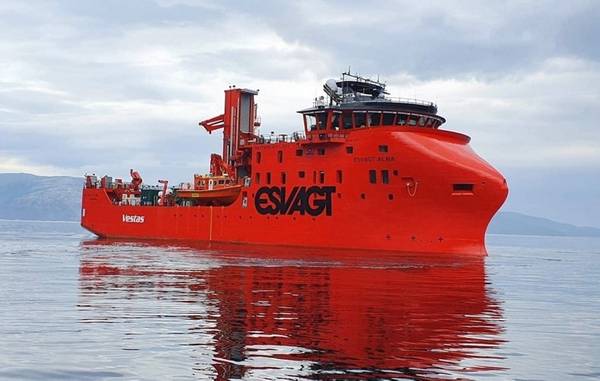 Esvagt Alba - Credit: Havyard
Norway-based Havyard Leirivik said Thursday it had handed over a new wind farm service vessel to the Danish shipowner Esvagt.
The vessel named 'Alba' is the second in a series of three vessels.
Havyard's Norwegian Electric Systems has delivered the bridge solution and automation and electric power systems on board. Norwegian Greentech has provided a system for the treatment of ballast water, while HAV Design has been responsible for the ship design.
The wind farm service vessel is the fifth such vessel built at Havyard Leirvik and the second in the HAV 831L SOV design series.
The third wind farm service vessel in the series is ready to be fitted out. The handover of this vessel will take place in autumn.
Service Operation Vessels (SOV) are seen as a cost-efficient solution when it comes to the maintenance of offshore wind farms located far from shore where frequent transportation of technicians from shore is not practical due to the distance.
An SOV is deployed near a wind farm and serves as sort of a hotel/workshop where technicians then can spend weeks offshore, and "walk to work" via specialized gangways.