December 20, 2020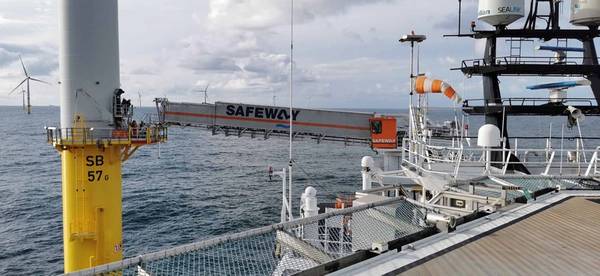 Photo: Safeway
Safeway won a contract from Heerema Marine Contractors (HMC) to supply a Safeway Seagull type motion compensated gangway system for installation on the CSV Normand Baltic.
The contract is significant for Safeway as it is the first contract for HMC, and it is also the first time the Safeway Seagull system with 3D crane function will be deployed to transfer personnel and cargo during an offshore wind project in Taiwan.
Heerema was awarded a promising contract for a very large wind farm off the coast of Taiwan. The scope of work involves the transport and installation of one hundred eleven (111) turbine foundations as well as the installation of two large offshore substations. The installation work will be executed by Heerema's Aegir.
The rental contract for the 28 metre-long walk-to-work Safeway Seagull gangway will commence during the 1st half 2021 for an initial term of up to 168 days, with an option for a possible extension.